Avdata's technology is used throughout the National Truckwash System, enabling truckwash owners to generate revenue and protect their facilities by controlling who can access them.
How the system works
The robust electronic system relies on touch-keys, which each have a unique identification number. Drivers simply touch their key against a sensor to activate the truckwash. More than 12,000 touch-keys are carried by livestock transporters across Australia.
The simple, user-friendly system:
identifies the touch-key
sends a signal to start water flow, if the key is valid
records water usage (by time or volume)
transfers data via wireless modem to Avdata, for billing, according to each truckwash's specific rates
Monitoring and access control
At the heart of the system is Avdata's Monitoring and Access Control System Plus (MACSPlus). It switches water flow on and off through a solenoid valve and transfers user information to Avdata. The truckwash owner can access this data through the Avdata website.
Components are tough
Touch-keys have been designed to resist rough treatment, dirt, water, oil and magnetic fields. Heavy-gauge aluminium push-button control panels have on and off buttons that are weather and vandalism resistant.
Billing services
Avdata maintains a database of truck operators with touch-keys, to ensure accurate and efficient billing.
Our cost-effective billing service includes:
collecting and processing data from truckwashes
calculating bills according to each truckwash's specific rates and charges
generating bills and sending them to truckwash customers
processing and receipting payments
making a monthly deposit into the truckwash owner's account
responding to queries from key-holders
Clients can access usage and payment data, and generate tailored reports, on-line.
Access to data
Truckwash owners can log-on to Avdata's website to see:
customer account activity (payments received, charge type, charges owing)
billing summary (balance brought forward, new invoices, receipts, client money held in trust)
usage details for each outlet
usage details for each key (including date and time)
credit status of prepaid keys and add credit
See sample reports
Avdata's online reports are strictly confidential, but we have created sample reports to demonstrate the type of data that can be accessed and how it is presented. To see sample reports, or determine whether Avdata's system can generate reports you need, please call us on (02) 6262 8111 or email mail@avdata.com.au.
Customising the system
Avdata can tailor its flexible system to:
work across any number of truckwash bays
charge different rates for specific bays and customers
allow local or infrequent customers to use prepaid touch-keys (recharged online)
operate floodlights when the truckwash is used at night (cutting power costs)
control access through gates or to winches at saleyards
give key-holders access to showers or toilet facilities
set times when access is allowed and alter this remotely, on-line
Installation and support
The Avdata system needs to be installed by local electrical and plumbing professionals.
Truckwashes using our technology
More than 100 truckwashes across Australia rely on Avdata's technology, as outlined on our map.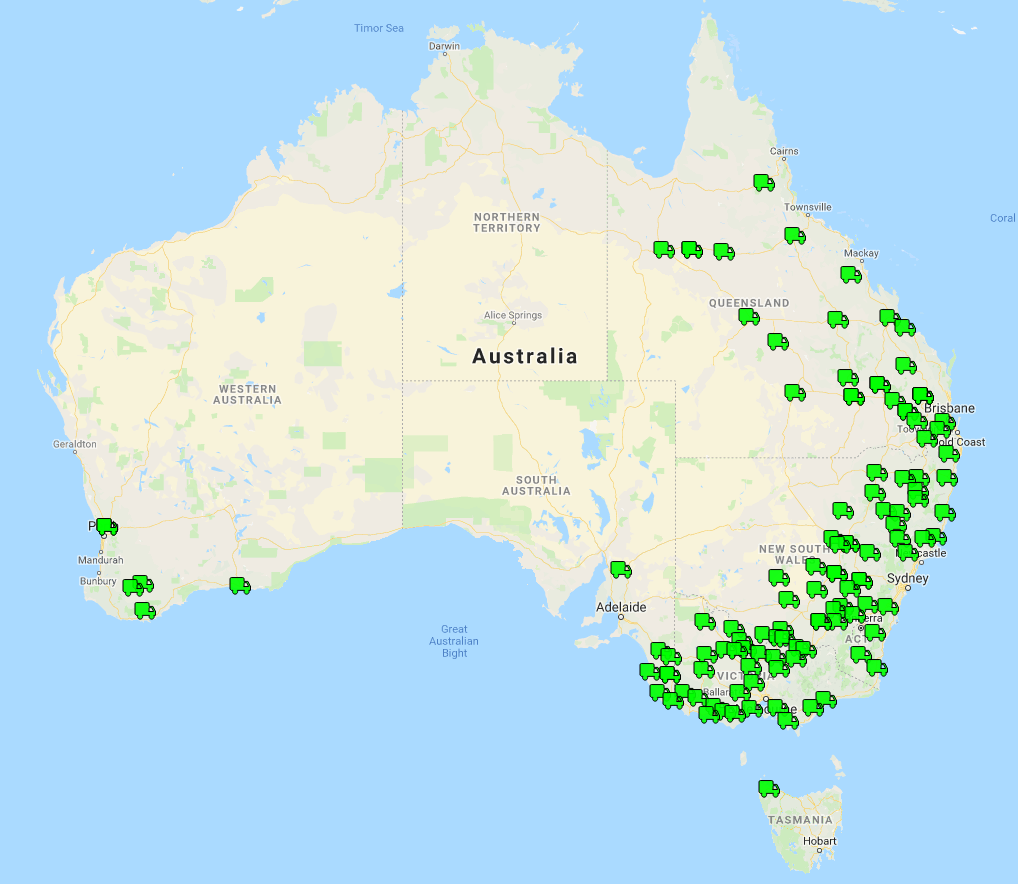 We also publish a list of charge rates for every truckwash in the National Truckwash System.
Click to see the current charge rates.